A Narrow Miss with a Nasty Bug
It's that season again. No, not the holiday season – I mean the cold, flu and nasty bug season.
Fall and winter is the time when low vitamin D levels, kids going back to school and lots of holiday travel create the perfect storm for seasonal bugs to flourish and spread. And the risk is not just limited to the common cold and flu viruses. As the number of people traveling and shopping increase, so does the risk of catching community infections like MRSA, Strep, E. coli, norovirus and other germs.
Where Germs Hang Out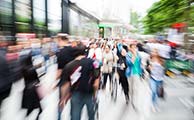 Before I tell you about my own narrow miss, here's a few travel tips that will help you stay safe. This time of year with people on the go and traveling for the holidays, there's some high-risk surfaces and objects you'll want to be aware of.
Continue reading →